There are approximately 1500 members in the NZHGPA enjoying New Zealand's uncrowded skies. There are 11 clubs throughout New Zealand and many commercial schools.
Hang gliding and paragliding are relatively inexpensive and easy to learn. You will fly solo after a few lessons with a certified instructor.
New Zealand is an awesome place to fly with coastal ridges and high mountains offering some of the best flying you can find anywhere in the world.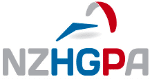 From Ian Manton, NZHGPA president As we approach the upcoming AGM, I'd like to discuss a critical matter with you all: the need for dedicated individuals to step forward and join the...
read more
It is important the NZHGPA website is kept up to date with the most releveant information. If you have information about site closures, a safety notice or an upcoming event, please contact us so we can update the website accordingly.
The NZHGPA is the governing body of paragliding and hang gliding in New Zealand and exists to develop, protect, and promote the sport of hang gliding and paragliding in New Zealand. On this site you can find information about paragliding schools, hang gliding schools, and local paragliding and hang gliding clubs. Login to the Members hub to access member information and resources.